Welcome
Looking for that special friend? MaPaw Siberian Husky Rescue and Referral Service, Inc. is excited for the opportunity to help you find your new family member! Old, young or anywhere in between, our dogs have lots of love to give and are waiting for their forever homes. New to the breed? Learn about the Siberian here, and find out if the breed's unique characteristics are a match for your family and lifestyle. If you are familiar with the breed and want to see who is available, check out Our Available Dogs.
We serve Eastern PA, and parts of NJ, MD and DE. All dogs are shown by appointment only to approved applicants.
Please Note: Our adoption process includes home visits, therefore, our adoption area is limited to 100 miles of Philadelphia, Pa. If you are outside of our adoption area, please visit siberianrescue.com or petfinder.com to locate rescues in your area. Don't forget to check with your local shelters ~ many Siberians end up there!
Due to the Siberian Husky's high prey drive, we do not place them in homes with cats or other smaller pets.
---
2014 Calendars are sold out!
---
---
Thank you all!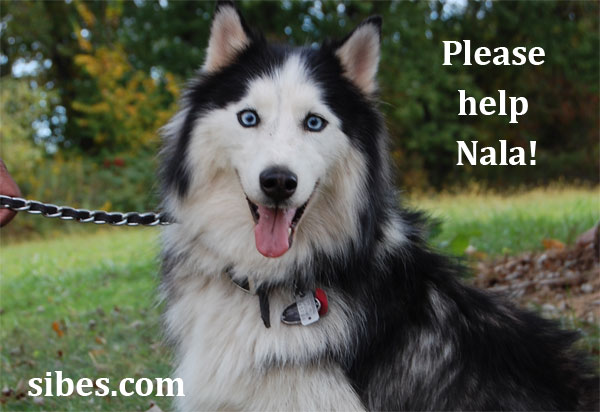 UPDATE: Nala has been treated at the hospital and is now home resting. The cycle of seizures was broken,and we are hopeful that she will continue to improve. Thank you to all of those who donated to her care and kept good wishes for her.
Nala is a delicate 2.5 year old husky with a huge heart.  She is an epileptic; which usually is easily controlled by medicine.  This sweet girl, however, is enduring cluster (multiple) seizures and at this time has at least one every single day.   She is never alone.  We hug her tight, but we see the confusion and fear in her eyes.
Nala has been a trooper ~ She is currently on four types of medicine three times a day… and yet this little one still has grand mal seizures.  In between episodes she is clumsy, but plays with the other dogs and puts her head in our laps.
Her future looks promising ~ her neurologist strongly recommends hospitalization to monitor and control the seizures.  If she does not have the hospitalization, the seizures will most likely perpetuate themselves if not stopped.   We have been given an initial estimate of over $1,000.00.
Nala depends on us to give her the care she needs so this very young Husky can lead a normal life.  If you would like to help us give her the treatment she deserves, please donate towards her care.  No amount is too littleand all donations are tax deductible.
---
Meet Our Newest Guests
---
Foster Homes Needed
The number of pups we can bring into rescue depends on the amount of foster space we have available. We never have a shortage of pups needing rescue, and for some, we are their only chance at a second chance. Foster homes are our greatest asset and the resource we need the most. We provide everything you need ~ crate, blankets, food and medical care. You provide a safe and secure home where our pup will be loved and cared for until they find their forever family.
Please contact us if you have any questions about fostering or click here to submit an application to foster a MaPaw dog.
---
About MaPaw
MaPaw Siberian Husky Rescue is an organization dedicated to the caring and placement of Siberian Husky and Husky mix dogs into loving, permanent homes through adoption and referral services.
We are a network of foster homes located throughout Eastern Pennsylvania, parts of New Jersey, Maryland and Delaware. Our foster homes are volunteers that open their homes and their hearts to Siberian Husky and Husky mix dogs in need.
All of our dogs are given individual attention that allows us to learn about their personalities and needs. This knowledge helps us to place our dogs in homes that are best suited for them, which results in rewarding and lasting relationships.