---
MaPaw Siberian Husky Rescue is an organization dedicated to the caring and placement of Siberian Husky and Husky mix dogs into loving, permanent homes through adoption and referral services.
All of our dogs are given individual attention that allows us to learn about their personalities and needs. This knowledge helps us to place our dogs in homes that are best suited for them, which results in rewarding and lasting relationships.

If you're within a 100 mile radius of our main office in Boyertown, PA we would love to consider you for adoption or fostering. Why the limitation? We depend completely upon the assistance of a network of volunteers in our Pennsylvania region. These volunteers provide transport and support for our adoptions before, during, and even after the dog comes to live with you. Until we have teams in other areas throughout the United States we are unable to ask our current volunteers to travel further than 100 miles. If you are not within our adoption area please visit siberianrescue.com  ~  petfinder.com  ~ adopt-a-pet.com  to locate a group near you. Don't forget to check with your local shelters, many Siberians end up there!
Please Note: Kennel hours are by appointment only. Call (610) 369-0055 to set up a time to meet the dogs.

Here are the steps you need to take if you'd like to adopt from us:
Do your homework! If you've never had a Siberian Husky take some time to learn about their somewhat challenging (yet endearing) breed traits. Learn more about Siberian's here, and find out if the breed's unique characteristics are a match for your family and lifestyle. If you are familiar with the breed and want to see who is available, check out Our Available Dogs.
Fill out our online adoption application. No fee is required to apply. Be sure to fill it out completely, providing accurate phone numbers for each reference. We do check all references! Let your references know we'll be calling so that your application can be completed without any delays. Call your vet to authorize them to speak with us. They aren't able to release information without your consent which would delay your application. We'll be verifying that your current pets have been cared for appropriately and are up to date on vaccinations that are required.
When your application has been processed an adoption coordinator will contact you to discuss the dog(s) your interested in, as well as others that might work for your family. An appointment to visit our kennels will be scheduled so that you, your family, and your pets can meet and help you choose your new friend. Once a dog is selected and everyone's happy we will arrange for your adoption. An adoption coordinator will bring the dog to your home at which time a home check will be completed. We'll check your yard and fence to be sure it's sufficient to keep your new friend where he's supposed to be. If everything looks safe for the dog you will complete an adoption contract and your new friend will be in his/her forever home.
Our adoption fee covers spay/neuter all vaccinations, and a microchip.
Effective March 1, 2015 MaPaw will be raising their adoption fee as follows:
Dogs up to 6 months of age – $400 plus a $300 spay/neuter deposit which will be returned upon veterinary verification.
Dogs 6 months to 8 years – $325
Seniors (9 years and up) – $200
Special needs – at the board's discretion
Those who have applied prior to March 1, 2015 will pay our current adoption fee of $275
Due to the Siberian Husky's high prey drive, we do not place them in homes with cats or other smaller pets.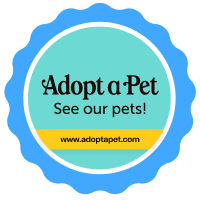 ---
Meet Our Newest Guests
---

Thank you channel 6ABC for featuring MaPaw on the "Shelter Me" segment this beautiful July morning! Click here to watch:
---